How Much Does Buying or Building a New Home in Tampa Cost?
"

2017, the average cost of a new home was $360,900."
- T
hat's according to the Department of Housing and Urban Development (HUD) and the U.S. Census Bureau.
"
One of the first questions homeowners want to know when they call our company is: How much does a new home cost? First, let's get the elephant out of the room, new home prices vary drastically. When you have to consider all of the options available, the location, size, quality of materials, and all the other factors; the cost to build can vary widely. It may be difficult, but we will do our best to explain some of the details.
Let's take a BMW 3 series and compare it to a BMW 7 series or an i8. Same company, similar materials, different engines, different specs, different materials, and drastically separate prices. Even each series of BMW's have multiple options. That doesn't consider the upgrades; leather seats, Keyless Entry, SiriusXM Satellite Radio, Parking Assistance, Surround View with 3D View, Head-Up Display, Soft-close automatic doors, window shades, and after all of the upgrades you could end up $10,000 to $20,000 or more depending on the package.
Considering that the average American sells or trades in their vehicle within the first five years of purchase, why do so many people elect to get so many upgrades? The answer is because most people understand the importance of getting what they want the first time so as to not have any regrets down the road. Because most Americans spend over 30 minutes a day in their vehicles, they want to make sure their vehicle will provide them with comfort, quality, longevity, and ease of use.
These same principles apply even more to a new home. You live in your home 7 days a week, 52 weeks a year on average for 7 to 10 years. It's where you will spend the majority of your time. Your home is where you have fun, relax, enjoy family, laugh and create memories. And unlike a car, your home is more likely to appreciate over time than depreciate. Real estate is the one thing that has gone up consistently over the decades. You can't make more land. This is why choosing the right home through the right builder is crucial. You want to get the most from your home and have the least amount of maintenance possible. Because of this, most shoppers choose to get the new home that will make them happiest in the long-run.
Purchasing or building a new home is not cheap. And unfortunately, most homebuyers choose to base their decision initially on price rather than on the quality of the home and the investment they are making in the long run. The goal of finding the cheapest home can end up costing you more, therefore sacrificing low-maintenance, quality, warranty, and aesthetics, which inevitably leads to regret—especially considering that unlike a vehicle, a new home cannot simply be traded in easily. Moving can be a hassle.
What you may begin to wonder, is why does X home cost $x amount of dollars, versus Y or Z. We wanted to shed some light on this subject for you.
How Much Does a New Home Cost?
There are 3 main parts when it comes to the price of a new home
The Cost of Land

The Cost to Build (Materials & Labor), The meat & potatoes

Market Comparables - we'll explain why this matters for new homes
1. The Cost of Land
This is a major contributing factor when it comes to building a new home. For example, the price of land outside the city of Tampa can be for 5 figures. You can find land in Wesley Chapel or Brandon for 1/2 or 1/3 of the price for 2x or more land than what you will find inside the city of Tampa. An average city lot in Tampa for new homes are 50x100 (5,000 square feet).
In today's market, it can be difficult to find a lot in Tampa for under 6 figures. The mid to high 5 figures is the minimum bar. It's possible just hard. The lower you go usually the less the desirable the area is. Or it could come with extra issues or extra costs you may not know of. This is why we spend a lot of time, money and energy on making sure the land is buildable and worth the price.
The price goes up when the desirability of the area increases. For example, lots in Plant High School District can begin around the $300,000 to $500,000 JUST for the price of land. Then go up from there.
None of which includes the cost to prepare the land to build or to build the infrastructure that is required. Then you have to consider the cost to build and make sure it fits within budget without it being the oddball. Overbuilding a $1,000,000 home in a $300,000 neighborhood will lose you money when you resell.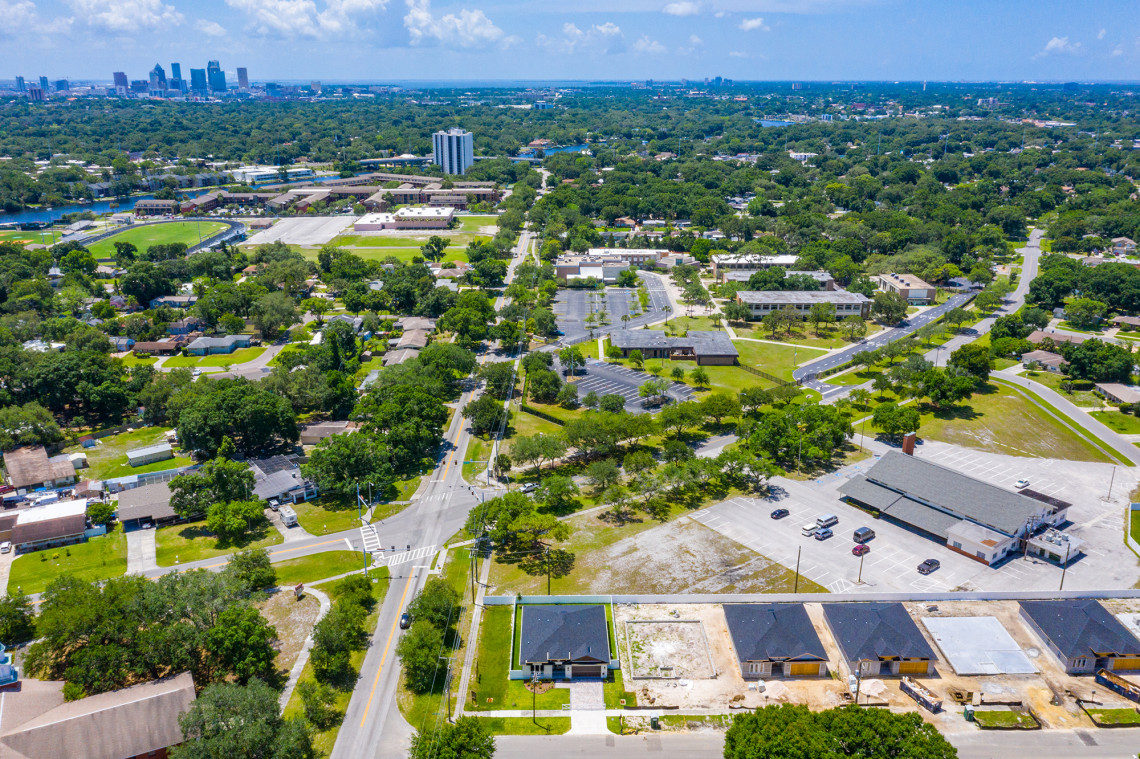 2. The Cost to Build a New Home(The Meat & Potatoes of the Price)
The average cost of a new home in Tampa is between $300,000 to $500,000. And this doesn't take into consideration that you could find some new homes in Brandon or Wesley Chapel for $200,000 or that most new homes in South Tampa begin around $600,000 - 700,000. And the price of a new home that is "tract" built varies to a spec home, a semi-custom, and custom home. Custom homes can be around $500 or more per sqft to build. Whereas spec homes can be around $125-250 per sqft to build.
You could purchase a resale home but then you would incur the cost of repairs or maintenance. A new roof can be $30,000 and renovating a kitchen can cost you $50,000 or more depending on the size.
You buy a tract home in a huge community neighborhood full of amenities, the downside is the HOA and/or CDD can cost you a lot of money every year. The quality of the home varies drastically with a spec or custom home, and it could require more maintenance because of the materials chosen. For example, carpet requires more maintenance than porcelain tile. While porcelain is much more durable and better long term.
While carpeting has a wide range of prices, the average homeowner pays between $1 and $10 per square foot, with the average installation size roughly 10-feet by 14-feet for an average cost of $300 to $1,600 (added with the cost of labor). The average can be around $400 to $700 for a 12x12 room, which averages to $2 to $5 per sqft.
Whereas porcelain tile not only has a much higher cost per sqft ($3 to $35) but also requires much more time and effort to install, requiring a higher cost. Labor is not only the human element but other materials, removing the old surface/preparing the current surface for installation. Which can put that anywhere between $14 to $83. For the same 12x12 room that could cost between $2,016 to $11,952 and can go up from there.
As you can see the cost to build can vary drastically depending on the quality of materials being used. The cost to build a new home is where the majority of the price is made up of. There's the cost of labor and cost of materials. Plus the cost to prepare the land to build on. Which could cost tens of thousands of dollars to prepare. Definitely, if there is a teardown or if the land is undeveloped.
Build Costs
Labor costs vary drastically according to the size, quality of materials and complexity of your home. Large, custom-built homes will have a higher labor cost than smaller modular homes. It's important to factor the cost of hiring architects, engineers and surveyors into your budget as well. The cost of labor is only one small factor, the cost of materials makes up a big part. And the cost of both can vary and change year to year with the market.
Architects - Thousands of dollars to upwards of $30,000 or more depending on the size of the home

Engineers - Thousands of dollars

Land Surveyors - Several hundreds up to a thousand dollars
Here's an estimation of the build costs associated with each part of your home's construction:
Foundation: $10,000 - $100,000 or more
Excavating, pouring, and backfilling make up your foundation costs. This can include the slab, the foundation type, the engineering, site preparation and stem wall. Some homes also require retaining walls and additional landscaping to eliminate flooding or other foundation-damaging problems. You have the cost of reinforcement, steel mesh, rebars, the stem wall and everything else. Additional work can increase this cost.
Framing: $30,000 - $200,000 or more
Your home's frame will dictate the size and location of rooms and other important features like roofing. Framing costs include the overall home's frame, as well as trusses and general metal work. You have the cost of exterior and interior walls plus the roof. The price of concrete is much different than the price of wood. And the price to simply use concrete blocks versus the cost to use concrete, steel reinforcement, rebars and pour it solid varies.
Exterior finishes: $40,000 - $300,000 +
Exterior finishing includes exterior walls, roofing, siding, paint, trusses, driveway, landscaping, irrigation, fencing and adding windows and doors. The number and type of exterior finish, windows and doors will affect this price. If the doors & windows are hurricane impact then that adds even more to the price.
Major systems installation: $30,000 - $100,000 +
Plumbing, electrical and HVAC comprise most of your major system costs. The size and type of systems can affect the price of these installations. For example, installing an energy efficient system starts with something like a solar panel cost and grows based on its size, wiring, and labor that connect it to all the fixtures, outlets, and appliances in the house. The cost of gas can be the cost to get a line to the street (which could be $15,000 - $20,000 or more), plumbing and finally the cost of the appliances (& setting those up). As well as the cost of insulation, for example, spray foam insulation can cost 2-5x more than other types of insulation.
Interior finishing, fixtures & features: upwards of $100,000 to $600,000 and more depending on the size & quality of the home
Interior finishing adds the comforts of home to your new build. This can include insulation, drywall, interior trim, painting, lighting, appliances, flooring and plumbing fixtures.
And then you have to factor in that tract homes, spec homes, and (even semi-custom) custom homes vary drastically in price due to the build process. The build process varies in all 3, the quality of materials, and labor varies as well. On top of all of the other factors listed below.
Factors that affect the price of a new home
Size - A home with greater square footage will cost more than a smaller home.
The Number of Stories - Additional stories will require additional construction and design work, which will increase your building costs.
Design/Style -

The more custom the design, the more features, and uniqueness will add more. There's a reason a plain barebones traditional home costs less than a modern home.

Type of Roof - The installation and upkeep costs of specialty roofs will cost more than asphalt options. This is an area where durability should trump other concerns.
Level of Fixtures/Finishes - The grade of fixtures can impact the cost of a home. Granite & quartz countertops and marble & porcelain floor tiles are high-end options that come at a premium price.
Level of Appliances Refrigerators - can range from hundreds of dollars to several thousand. A sub-zero fridge is much higher than the cost of an entry level Whirlpool or GE fridge. Even Whirlpool and GE have different levels of products.
Exterior Features - Pools, outdoor kitchens, and large decks are common design features. Design extras can increase your homes upkeep costs as well.
The quality of the materials used can raise the price in every area. Prices will never be the same with one home because a 2,300 (heated) sqft home in New Tampa costs different than a 2,300 sqft home in South Tampa. And then the price to build last year or 6 months ago changes when the market changes, materials, and labor prices adjust with the market.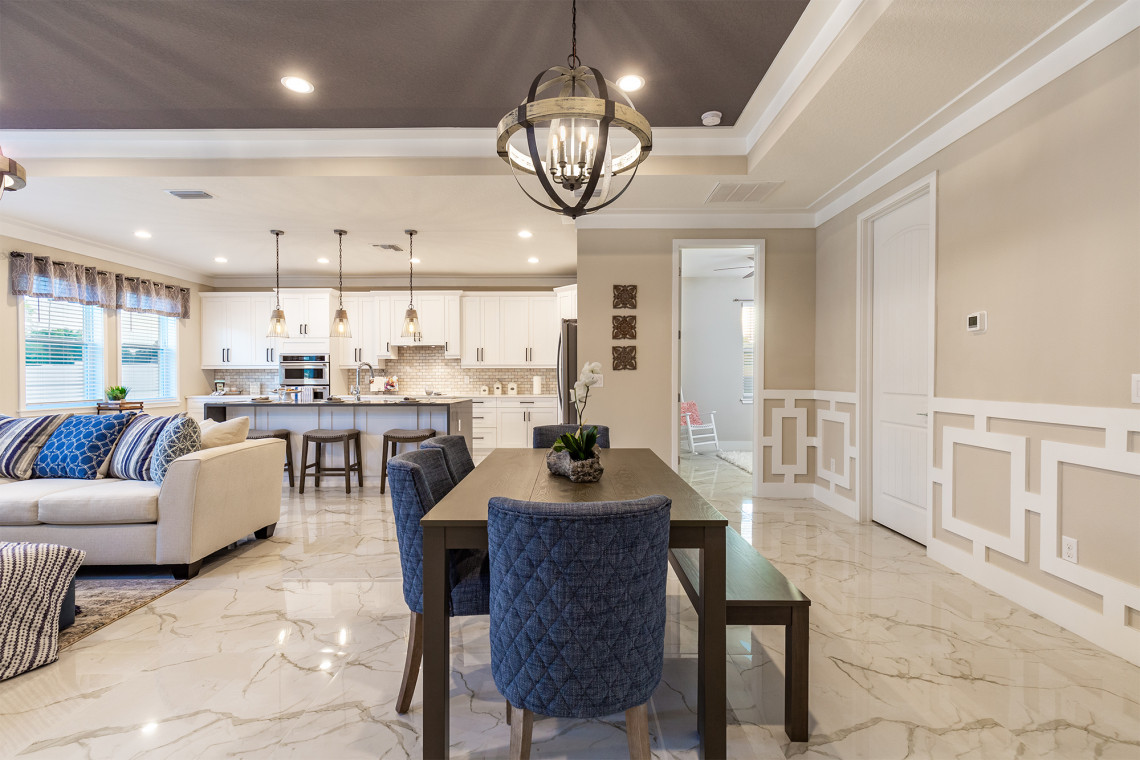 What Our Build On Your Lot Price Includes
For example here is everything we cover with our Build on Your Lot Program price.
*** Price includes the total package with no surprises
Impact Fees (Transportation & School)

City Review and Inspection Fees

Build (Labor & Materials)
3. The Price of Comparable New Homes in the Area
This is important because you don't want to build a $500,000 home where there are no other new homes that compare with what you want to build (within a reasonable radius). When you go to sell, you will not have anything to compare to. That can be dangerous. This is one of the biggest things we factor into our decision of what to build when we build our new homes.
Is there "comps" in the area that will be comparable to what you want to build? When appraisers compare homes they don't compare old to new. They compare new with new. The size of the home, the location, and the quality of the build all factor into the price. That is why we focus on the quality of the home rather than simply building a cookie-cutter home. We've never had a problem with an appraisal and many times they come over.
That's why we put so many high-quality finishes and features in the home so that you don't have to worry about your investment. You know that it is worthwhile.
Interested in a new home?
We're here to help you get started, no matter where you are in the planning process.
View Model Home
See the quality of home for yourself! Let us show you one of our finished homes.