What's the Best Flooring Material for Florida's Climate
What's the best flooring material for Florida's climate? And why do we never put carpet in any of our homes? We will go over the pros and cons of some of your flooring options to help you decide which is best for you. As well as explain what may be the best flooring to fit your scenario. You'll also find out why we never put carpet in our new homes.
In Florida humidity is a big deal and it should play a major deciding factor in your flooring choice. The cost of materials is important, but if you end up ripping up and replacing the material then the maintenance costs can offset the short term savings of buying something cheap.
Your flooring is one of the most important parts of the home because it deals with the most traffic and use. That's why sometimes going for the cheapest option may not be the best long term decision. You also want to make sure it will help with your homes resale value.
Imagine, all of the people who walk through your home, and all of their steps. Whether you have your kids running around dropping toys or you walk through the kitchen and accidentally drop some food. You want your floors to be able to withstand all the wear and tear that happens 24 hours a day, 365 days a year for decades to come.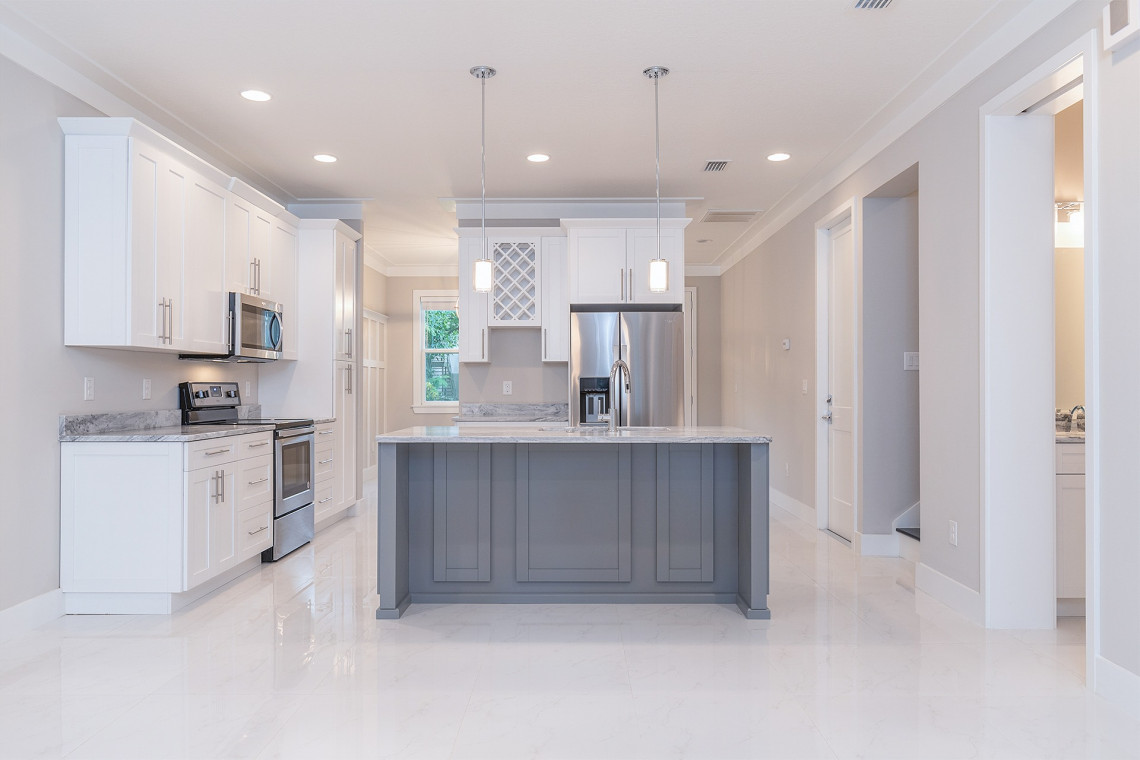 Why do we never put carpet in our new homes in Tampa?
Carpet can sound great. It's soft, it's comfy to stand or sit on. It can be an seem like an ideal choice for the living room or bedroom. However, in Florida with the humidity is it the ideal choice?
When is carpet a good choice?
Carpet works well in cool climates

It can be an inexpensive option (there are some really expensive carpets too)




It is comfortable to stand on and it works well in low traffic areas

Carpet can offer an inviting, cozy look
So why do we not put it in our homes in Tampa? We do not believe in carpet, in Florida.
The downsides to carpet:
Carpet traps dust, germs, moisture and other debris which can be a pain when combined with the Florida heat

Don't slip and spill any food or drinks because cleaning it can a pain. Plus it can retain any spill or odor.

While carpet can be inexpensive, cozy & inviting the maintenance cost can be high. Professional cleaning for carpet can become expensive, definitely over time.
While carpet may never go out of style, what needs to be considered is the long term cost of owning carpet. For all of those reasons, that is why we do not put carpet in our homes. Instead, we look towards better long term flooring options for our new homes in Tampa.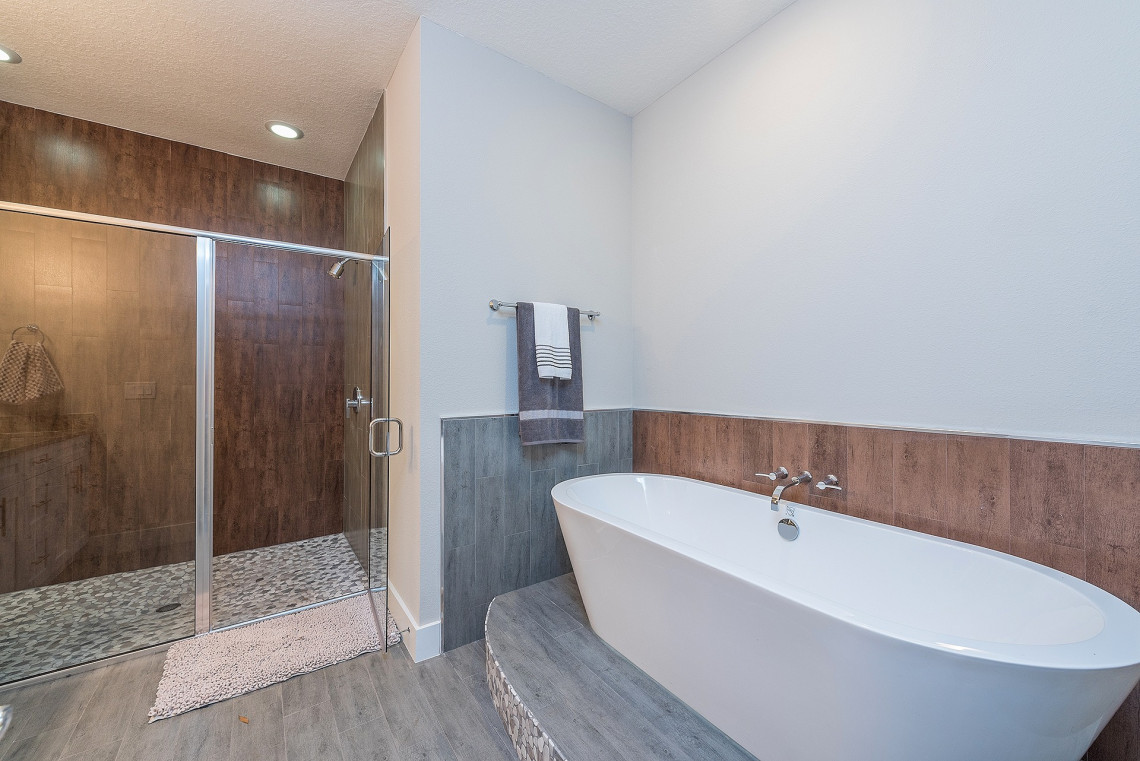 What are better flooring materials for Florida's climate?
You may be wondering, well if carpet is not the "ideal" choice, what is?
The 4 best options are:
High-pressure laminate

Luxury Vinyl

Engineered Hardwood

Porcelain Tile
1. High-Pressure Laminate
The good news is that laminate has come a long way from decades in the past. It is a very durable material that imitates the look of real wood. It is easy to install, easy to clean and is moisture resistant. If you want a material that does well in humidity, this is great! The glue that is used to make it reduces moisture absorption making it almost impervious to humidity.
The material doesn't fade, expand or curve due to heat. When installed with the proper vapor barrier, underlayment, tight seams, and on a dry, sealed subfloor, it becomes nearly waterproof. Which makes it an ideal flooring in Florida. Which is why our 2-story homes are built with it on the second floor.
High-pressure laminate is the second best flooring option for the humidity.
2. Luxury Vinyl
This is not a material that we necessarily use, but it can be a good flooring for the Florida climate. It can be a good option for high-moisture areas because it does not absorb moisture as quickly as wood flooring. It can also imitate a wood-like look or it can fit the modern style since vinyl is available in stone, wood or tile.
3. Engineered Hardwood
Engineered hardwood is compressed and glued together to form a strong, moisture resistant material. They are designed to have multiple layers, and the top layer looks very similar to solid hardwood. With the way they are put together, it makes it a durable material to handle the Florida heat. Engineered hardwood can tend to be more expensive than other materials, but it can last a long time.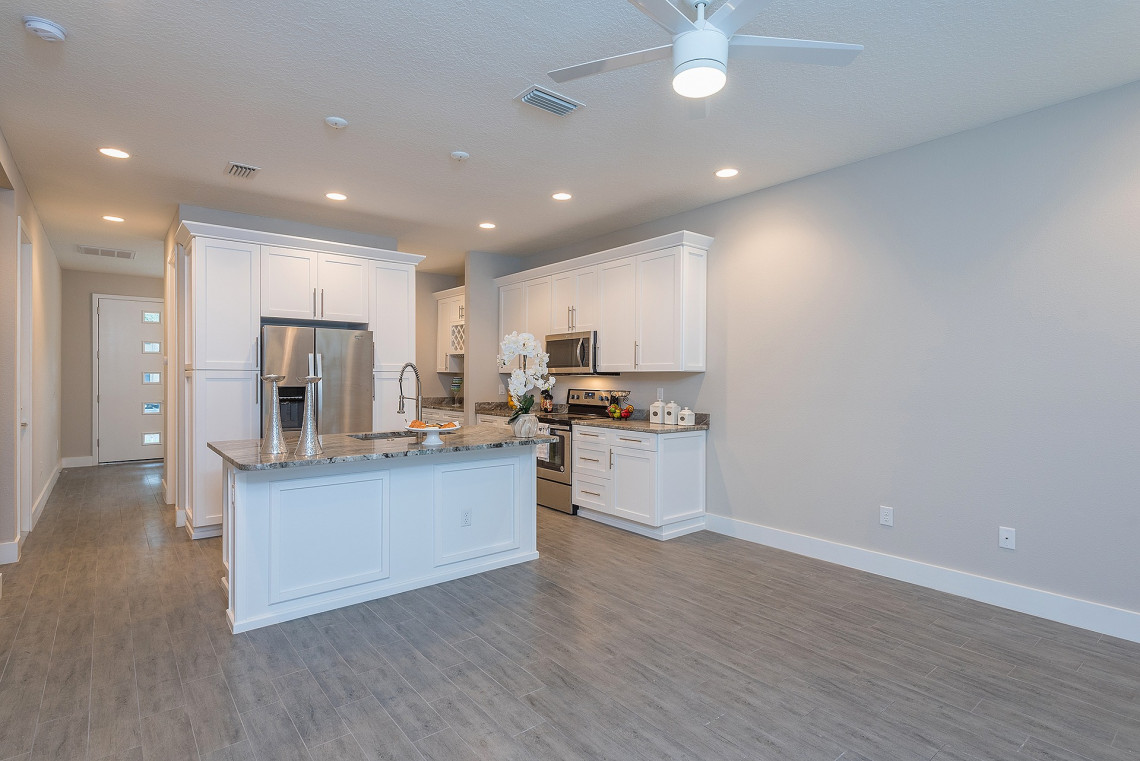 4. Porcelain Tile
Porcelain is our favorite flooring option that we use in the majority of our homes, even the ones we build in the 2-300's. The reason it is so popular in Florida is that if anything spills, like water, it beads up making it easy to clean. Which makes it exceptional since it does not absorb water or moisture. It does well with the Florida heat and humidity.
Porcelain is one of the most durable materials to use. Since it is made at such a high temperature it is harder and more durable than other flooring materials. Which makes it a great material that will last long. It is also simple and easy to maintain, you just use water & or a light cleaner.
That's why we put it in our homes. On top of that, there are a ton of different porcelain styles that may surprise you. It can look more traditional or modern depending on what style you prefer. It is very aesthetically appealing and it can mimic other flooring options.
View Homes that are Coming Soon
Expected completion dates are approaching!
View Homes That Will Be Built
Currently open lots that we are planning to build on. Make one yours!