Know What To Look For When Purchasing A New Home
When you're looking to purchase a home it can be hard to find a home that is the right price, in the right location, and one that you actually like. Buying a new home can be a stressful and difficult task as it is. You are already spending a lot of money when you purchase your home, the last thing you want to do is to end up spending $10,000 – 50,000 more a few years down the road fixing it up.
A home is one of the biggest purchases you can make and potentially one of the biggest liabilities as well.
It is important that you are thorough and that you choose a quality home.
That's why we made this guide, to help make the home buying process easier for you. We want to help you make an intelligent purchase so that you can find a home that you like where the price of the home matches the value it offers. That way a couple years down the road you don't end up spending thousands of dollars regretting your decision.
New Construction Vs. Resale Home
You have 2 main options when purchasing a new home either: a new construction home or a resale home. In our prior article we talked aboutthe pros and cons of new construction vs. resales, so we won't repeat that. Instead, if you want to know which is a better fit for you go read the articlereal quick, then come back.
Let's get all the new construction jargon out of the way. As far as new homes you "technically" have 3 options: model(tract) homes, spec homes, and custom homes.
Once you decide between a resale or new construction, then you can start looking at the details about the home. Or you can keep your options open and compare both of them throughout your home buying process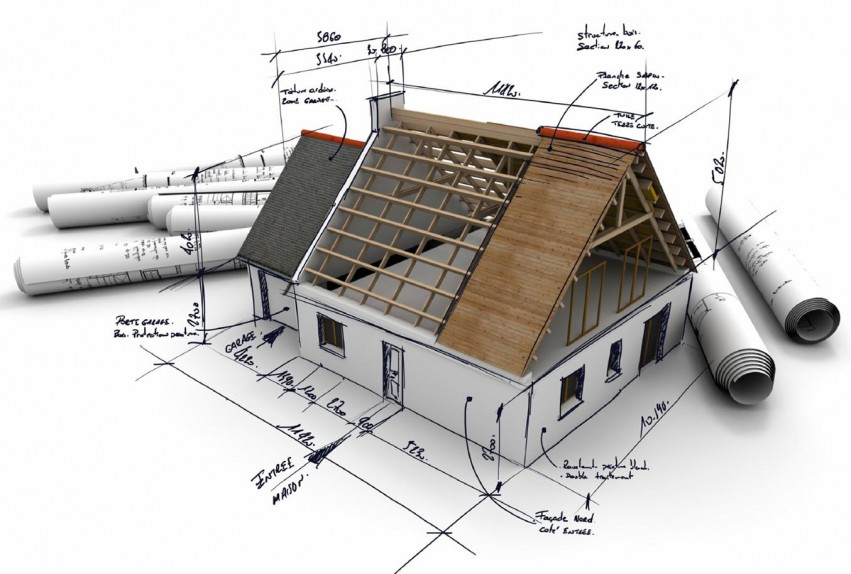 Types of New Construction Homes
Tract (Model) Homes Vs. Spec Homes Vs. Custom Homes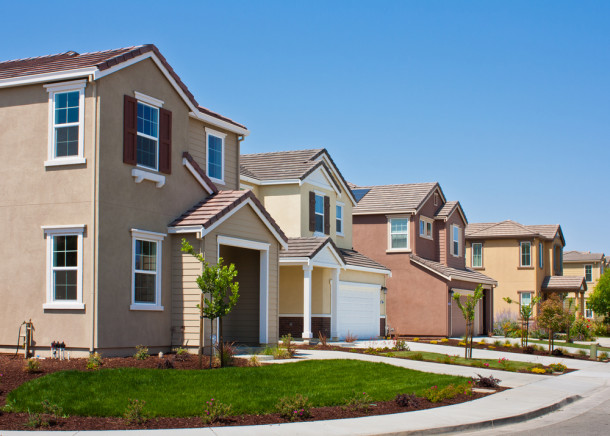 TRACT HOMES
Tract homes usually involve huge volume building. It's when a developer has a big plot of land and builds a very barebones home that is usually rather similar to the rest of the homes on that plot of land. These homes are built with a very specific price point in mind, which means quality can become compromised.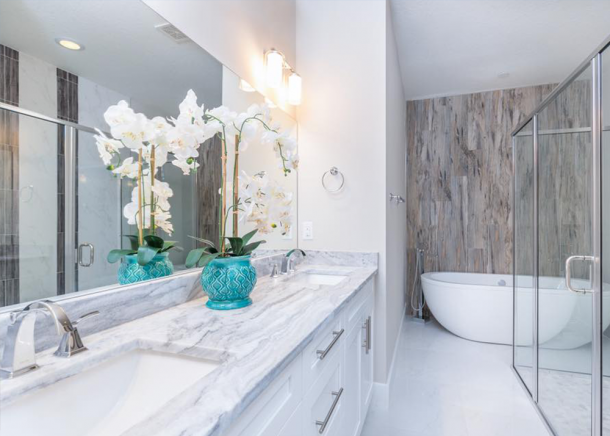 SPEC HOMES
Spec homes are homes designed with the specifications picked out by the builder. There is some customization available to spec homes depending on where the buyer comes in the building process. It also depends if the builder has already bought all the materials yet. If the buyer comes during construction they can sometimes choose particular upgrades and finishes.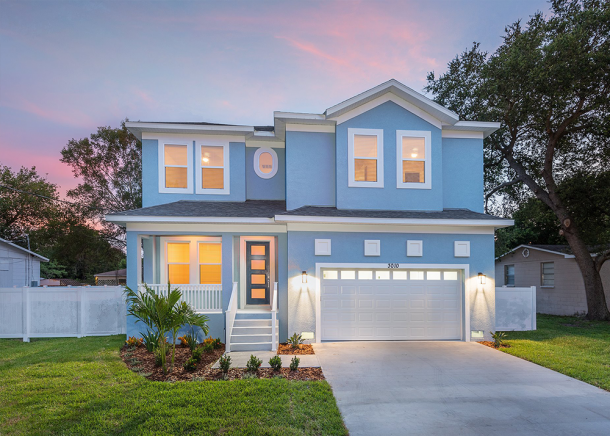 CUSTOM HOMES
A custom home is designed and built for a specific customer. The customer usually has to pick nearly every little detail about the home. Then the home can start construction once all the money and details are handled. We fall in between spec and custom (semi-custom), but our homes are more of a spec home. We help save you time since you don't have to pick out every detail about the home. We already put in custom upgrades and finished in every home so that the home is not cookie cutter. Rather than having to wait for a custom home, since we are constantly building new homes we have homes that can be ready to move in. With spec homes, you don't have all the same time and money constraints involved with building a custom home. While still offering a lot of the flexibility and benefits of building custom.
5 Key Factors In What To Look For When Purchasing A New Home
1. Location
You hear it all the time. Location. Location. Location.
When it comes to choosing the right home for you choosing where to live is the most important part.
You have to decide based on the city you are living in, what makes sense for you.
How long of a commute do you want?
What schools do you want to be zoned for?
Do you want to live in or near the city?
Do you want to live in the suburbs?
Do you want to live farther away from all the hustle and bustle of the city?
Proximity to other family and friends?
Are you close to a supermarket or other food options?
Do you feel safe living there?
How big do you want the yard to be? In the city, you won't have as big of a yard as you could have in the suburbs.
How's the economy and job market around where you live?
What are your hobbies? Will your home support them?
Those are some of the questions you want to ask yourself when choosing where you want to live.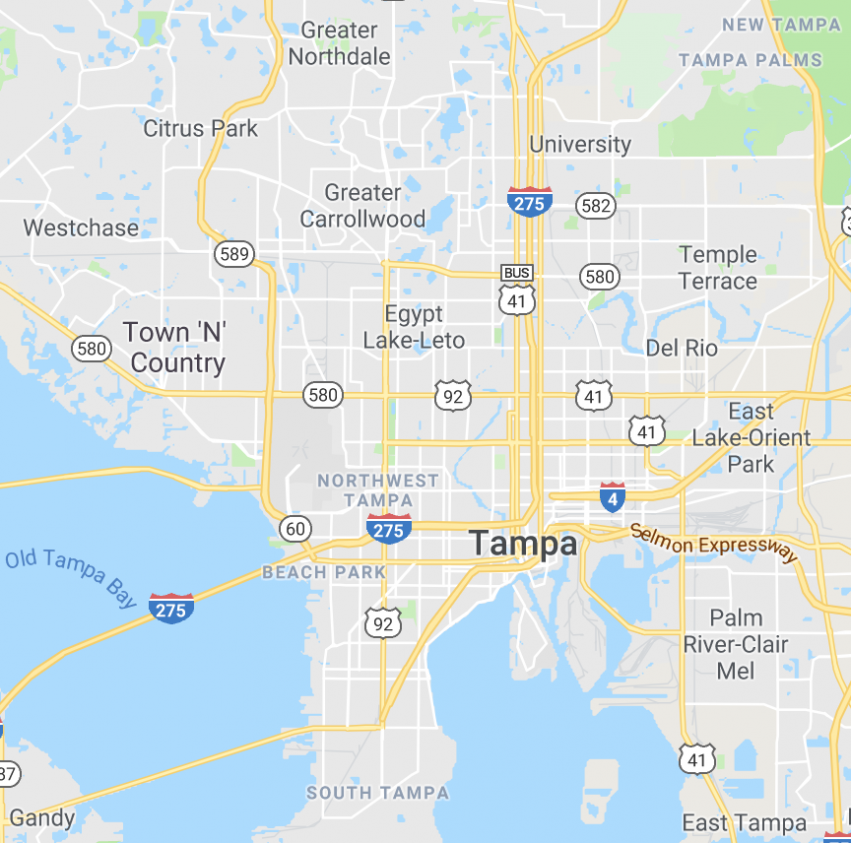 2. Construction Quality
The construction quality of the home is very important. There are 3 main parts
A. The Foundation
B. The Framing
C. The Roof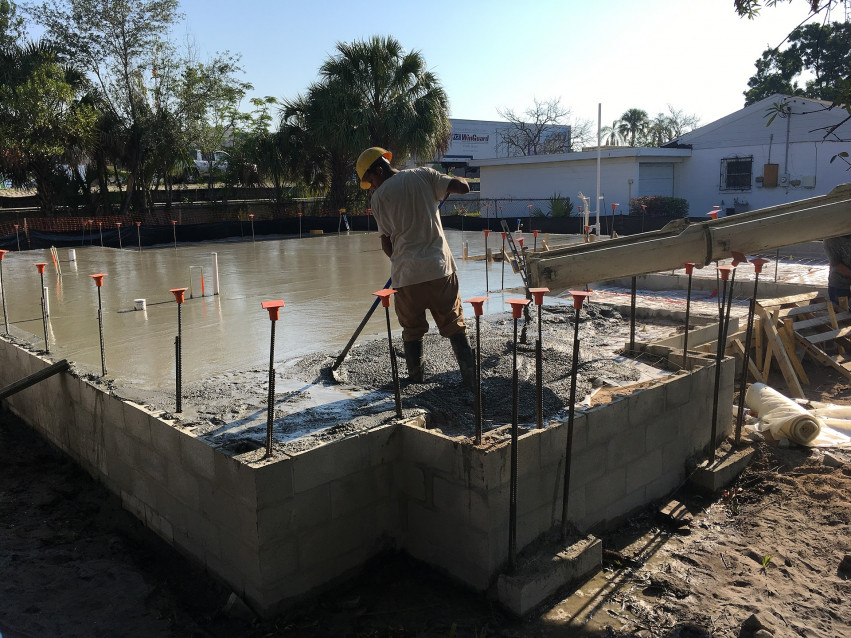 A. Foundation
This topic is not an exciting topic at all. But, it determines how well your home is built and how long it will last the test of time & the elements. The first part that matters it the foundation.
The 3 different levels for how a foundation can be built are a basement, crawlspace, and slab foundation.
There 4 common types of foundations used for residential: a poured concrete slab, frost resistant slab(found in colder climates), wooden foundation, and raised foundations.
Wood slabs are becoming a very common build. The problem is builders usually do it to save money. The problem is that once any water gets under, then it can cause a wide range of potential problems. Once the water is there, it's stuck down there, and water and wood do not mix. This is especially a concern in Florida.
The Difference Between Monolithic Vs Stem Walls
Concrete slabs are the most common type. The difference between slabs are monolithic slabs and stem walls. Monolithic slabs are one complete pour. They tend to be quicker and cheaper to put together, but they are still better than a wood foundation.
Monolithic Slab
Monolithic slabs cannot be used where there is dirt fills or sloped areas. It cannot be used anywhere the home needs to be elevated for appearance or due to codes, such as flood zones.
Monolithic slabs can be reinforced, but they tend to crack easier than stem walls. They are used when you want to save time or money.
Stem Walls
Stem walls are considered "higher grade" when compared to monolithic. The construction helps transfer the load to the underlying soil.
It takes more time but is more structurally sound.
It also elevates the home giving it a more pronounced appearance. There are 3 parts: the poured slab, masonry foundation wall, and the footer.
Different Levels Of Slab Quality
This has different levels as well depending on whether or not the foundation is reinforced. The masonry wall has different levels of quality as well.
The concrete can be left empty, it can be reinforced, and or it can be reinforced and poured completely solid with cement.
We make all of our homes with a stem wall where the foundation is reinforced with wire and fiber mesh. The masonry wall is concrete and steel reinforced throughout the whole wall, not just the uprights. Then we pour it completely solid with concrete.
This is baseline for our homes in any price range.
B. Framing: Wood Vs. Metal Vs. Concrete
Wood Framing
What may first come to mind when we talk about home construction is the traditional wood stick framing.
This is a very traditional and time-tested method for building. It is so common that the National Association of Home Builders found it is used for 90% of new homes. Once it is made, the inside is usually covered with drywall, and the outside is covered with a weather resistant cladding: brick, stone, metal, or stucco.
Wood framing is alright, but over time it can wear down. Definitely in wetter climates. Once the cladding wears down then it becomes exposed to the elements. This can take time but it will eventually happen. Not to mention wood framing does not hold up against hurricanes or tornadoes like concrete does.
Metal Framing
This is essentially the same thing as wood framing, but with metal. Steel will not burn, rot, shrink or be food for termites. When it is properly engineered it is stronger than wood.
You are also less likely for drywall cracks.
However, steel is more expensive and less familiar. It is also more difficult to work with and requires specific tools to build. That is why most residential construction does not use it, it is primarily used in commercial real estate.
Concrete Framing (Masonry Wall)
This is part of what was described earlier, for stem walls.
Concrete is the most used material in construction. As for residential though, it is not as common. If it is used it is either concrete masonry units (CMU) or insulated concrete forms (ICF).
CMU's are hollow blocks stacked on site. Due to the thermal mass, it slows the transfer of heat, which is why they are popular in the South (such as Florida). This is great insulation against the warm weather and helps with energy efficiency.
ICF's are like Lego blocks that are put together on site then filled with steel reinforced rods and more concrete. The walls of ICF's offer thermal mass like CMU's, but they also offer insulation. Which is why they can be used in any climate.
Due to the sheer mass of ICF's, more than CMU's, it makes them great options for hurricane force winds. Also due to the mass, it can be great for insulating the home from outside traffic noise. Which makes it a much quieter frame when compared to wood.
Siding Brick Vs Stone Vs Metal Vs Stucco – Siding
Brick
Pros: long shelf life and stands well to weather, fire, insects and
Cons: very expensive and more difficult to install. Can potentially let in water if they leak-proof material is not used under the veneer
Stone
Pros: The most durable and least flammable. Least likely for insects, eco-friendly
Cons: THE most expensive (more than brick), heavy, nd requires expertise to install
Metals
Pros: inexpensive, highly durable, eco-friendly, a good insulator, fire, and insect resistant
Cons: Higher maintenance since paint doesn't last as long as the metal, the appearance is not for everyone, can dent, and be very noisy
Stucco
Pros: Very durable, low maintenance, long lasting(50+ years), great for insulation, and resistant to fire & insects
Cons: expensive, requires skill to install, not good for wet climates with lots of rain
We use stucco in our homes.
C. Roofing
The roof is the last essential part when it comes to talking about how well a home is built.
The reason new homes tend to be better construction is due to the upgrade of codes, higher standards, ew technology, and engineering. Roofs nowadays are much stronger.
The new codes hold the roof together much better than older construction. The roof is anchored down because it is connected to the wall which is connected to the foundation. Making it really tough and nearly impossible to uplift the roof with the new anchoring. Definitely when combined with a reinforced concrete stem wall.
Rafters vs Trusses
The debate for rafters vs trusses is mostly about time and cost. The quality is relatively similar. Rafters can take a lot of time to install and cost more than trusses. Trusses do need to be designed and drafted so the lead time can sometimes take longer, but they can end up costing less overall
3. Finishes & Upgrades
A. Exterior Finishes & Upgrades
B. Interior Finishes & Upgrades
C. Kitchen Upgrades
D. Bathroom Upgrades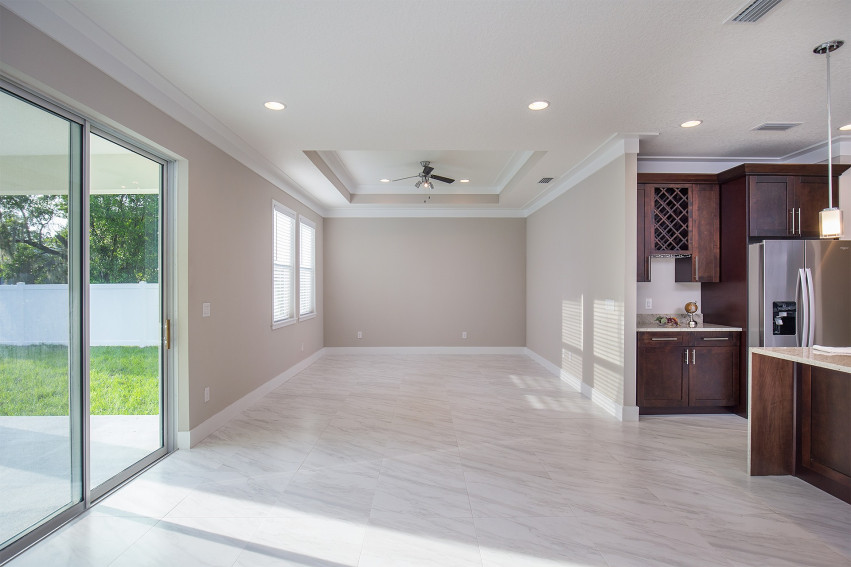 A. Exterior Finishes & Upgrades
You'll want to look to see what the home offers and what it does not. You want the value of the home to match the price you'll be paying.
When it comes to siding you will want to check the quality of the bricks, stone or stucco being used. When it comes to siding most of it is style and color preference.
When it comes exterior paint consumer reports found that Behr Premium Plus Ultra and Clark + Kensington are 2 great paints for their price point. Valspar was ranked #1 in JD Powers consumer reports. Whereas, Sherwin Williams is seen as the top-of-the-line premium paint when compared to the rest, but it is one of the most expensive options as well. It was ranked #2 in JD Powers consumer reports. It is also ranked highest in application and durability. That's why we use it.
Landscaping, is it provided through the builder? Or will you have to pay? Some new homes require you to pay for it. With resales, you get what you see.
How's the irrigation system? The most obvious preference for a residential property is an underground system with a timer.
Doors
When it comes to looking at doors and garage doors a lot is based on style. However, impact doors are a major plus definitely in areas like Florida. Impact doors will cost more so not every home will have them. The quality of the door and glass can have an impact on insulation and energy efficiency.
https://www.fixr.com/comparisons/fiberglass-vs-steel-entry-door
Steel Vs Wood Vs Fiberglass Front Door
Wood – is a common go-to for residential homes. But isn't quite as good as steel or fiberglass.
Fiberglass – is strong, durable, low maintenance, secure and can be energy efficient. Fiberglass is the lowest maintenance doors and can be highly energy efficient. They are less durable than steel and less secure. Fiberglass is the most expensive.
Steel – can be more energy efficient, secure and durable. They are typically less expensive and require less maintenance. Generally, it is more energy efficient compared to wood. Steel is the most durable and secure door on the market.
https://www.fixr.com/comparisons/wood-vs-steel-garage-door
Wood Vs Steel Garage Door
Wood – is more expensive, but it also is much more beautiful and energy efficient.
Steel – is more durable, less maintenance, easier to install, less expensive and lasts longer.
Windows
The main factor that contributes to an upgrade is the same as doors, whether or not they are impact windows and if they have UV protection. Quality doors and windows can help insulate the home in warmer climates, which helps with utility bills.
Exterior flooring such as travertine and pavers are another notable feature.
As well as any architectural features that are exclusive to the design of the home.
B. Interior Finishes And Upgrades
While there are a whole plethora of interior features, I will minimize them for now and make a more detailed separate post.
Some details include crown molding, baseboards(trim & carpentry), tray ceilings, 8 foot + doors, high/vaulted ceilings, light fixtures, and fans.
Rooms such as a media/game room, a wine cellar or examples of some upgrades
The 2 spotlight rooms we'll use are the kitchen and the main bathroom.
C. Kitchen Upgrades
The kitchen is the main focal point of a home. If the kitchen is connected to the family room and/or the dining room then you will spend the majority of your time there. Having a beautiful kitchen is important.
The kitchen is the most expensive room to fix, but it is also the biggest return on investment when it comes to reselling your home.
Open concept kitchens are a big plus not only for your family but for resale.
The 2 most popular kitchen designs for a kitchen are an L & U shape.
Flooring – Marble Vs Porcelain Vs Hardwood Vs Vinyl Vs Laminate Vs Tile
Marble – is the most luxurious and expensive option. It provides a very smooth surface and a wide array of design options. However, it is harder to maintain and can be easily damaged.
Porcelain –is the next best option. It is much the most choice, and it's easier to maintain. Porcelain is great for a modern look, and it doesn't absorb bacteria.
Hardwood – is an attractive look that is always in style. It can be repaired and refinished. It has a long life span and a better resale value than vinyl. However, it is high maintenance, expensive and difficult to install. Hardwood can also be damaged by heat or water.
Vinyl – is a more inexpensive option. It is easy to install, lower maintenance compared to hardwood, more absorbent, and impervious to moisture and heat. Unfortunately, it has no impact on resale value, cannot be repaired, and it has a shorter lifespan.
Laminate – is cheaper than hardwood, easy to maintain and clean, and it last for several decades. The downside is that it is susceptible to moisture, damage, heat, warping and it can be dented.
Tile – is your middle of the range choice. It's more expensive than laminate but cheaper than hardwood or porcelain. It is impervious to water and easy to repair. However it requires more maintenance, it's a hard surface, and it can be difficult to install.
Cabinets – Shaker Vs Raised – Painted Vs Stained – Framed Vs Frameless
Shaker Cabinets Vs Raised Cabinets
Shaker cabinets – are more contemporary, less expensive & they have many more styles. Shaker cabinets work well with frameless construction. However, they can be higher maintenance compared to raised cabinets, and they have fewer decorative options.
Raised cabinets – are more traditional, somewhat less maintenance, and they have many more different styles. However, they are more expensive and harder to find for frameless construction.
Painted Cabinets Vs Stained Cabinets
Painted cabinets – are more expensive, difficult to touch up and can crack over time. However, they have a smooth finish, more variety, are less expensive than wood and they can be used on MDF.
Stained cabinets – are easier to clean, maintain, and touch up. They are also less expensive and less likely to crack. Stained cabinets have fewer color options, they show more dust and require quality wood.
Framed Cabinets Vs Frameless Cabinets
Frameless cabinets – are more modern, clean, faster to install, made with thicker material, and easier to use. However, they are more expensive and have fewer variety & options.
Framed cabinets – are less expensive and have a much wider array of options. They are usually made with lighter materials and they can take longer to install.
Each level from stock to semi-custom and custom cabinets all increase the value of the kitchen more, but each level costs more as well. Custom is the "best" if you can afford it. Full hardwood cabinets are more expensive but worth it. Instead of using particle board or plywood which are the cheaper options.
Countertop – Granite Vs Quartz
Quartz – is a premium option but it looks better, doesn't stain and stays clean. It's non-porous and more uniform in color & texture. Its design and flexibility are more seamless in a kitchen. It is more stain resistant and durable. With quartz, you don't have to seal and reseal. The downside is that it is more expensive.
Granite – is more natural stone and varies a lot more in color & texture. Granite is less expensive and available in wider slabs. The downside is that it is brittle, needs to be resealed frequently, and it can be porous.
Marble is another option that costs the same as quartz. It is seen as more "luxurious", but it is not as durable. Marble does offer some elegance and beauty.Waterfall countertops are a premium touch which cost more to do.
Other Common Kitchen Upgrades:
Adding or upgrading the island
Porcelain or Ceramic Backsplash
Stainless steel appliances (huge variations of quality)
Glass induction stove top
Wine bar/fridge/cabinet
Lazy Suzan
Spice cabinet
Kitchen pantry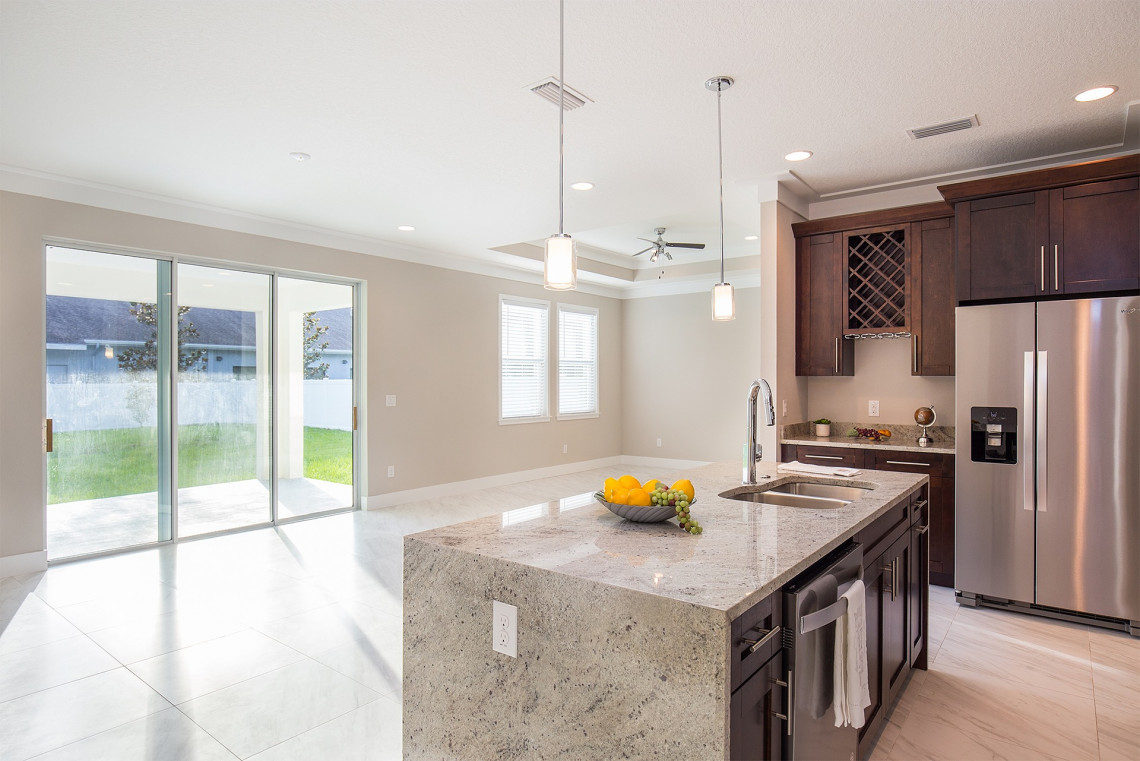 D. Bathroom Upgrades
Bathrooms are one of the other important rooms in a home. They have a huge impact on the overall aesthetics of the home, as well as the resale value.
Toilets
You can have a standard height toilet or a comfort height. A one-piece toilet is sleek, modern, easier to clean, durable and more energy efficient. They tend to be more expensive than standard toilets.
Sink
The 2 common options are under-mount and free standing. Generally speaking, free-standing is used in smaller bathrooms to save space. Under-mount sinks have more functionality and ease of use. The wider the sink the easier it is to do things such as washing your face. The bigger the sink, and the more sinks the home has, the more expensive it will be.
Having a sink with a cabinet is more expensive but more functional than simply having a pedestal sink.
Plumbing Fixtures
Figure out what style and handle you prefer.
The quality plumbing fixture brands are Kohler, Delta, and Moen. Moen and Delta tend to be higher quality compared to Kohler. We use Delta because they are known for their quality.
The real high-end brands are: KWC, Graff, Toto, Hansgrohe, Lefroy Brooks, THG or Waterstone
Showers & Tubs
In bathrooms, there are several options: a combined bath & shower, separate or only the shower. A separate bath and shower is a better option, but it is more expensive.
Free Standing Tubs are pretty popular, they save space, but are a little more premium than a regular tub. They also have more design and flexibility.
A spa-like, built-in bathtub is more premium and expensive, but they have less variety and flexibility.
Glass showers are popular in new homes. Frameless glass showers are more expensive, but they are very customizable and easy to maintain. Plus they offer a clean, minimal look.
You'll want to take a look at the shower head. The options are single, handheld, rain, ceiling, or body/panel spray. Rain, ceiling, and panel shower heads are seen as more luxurious but they will cost more.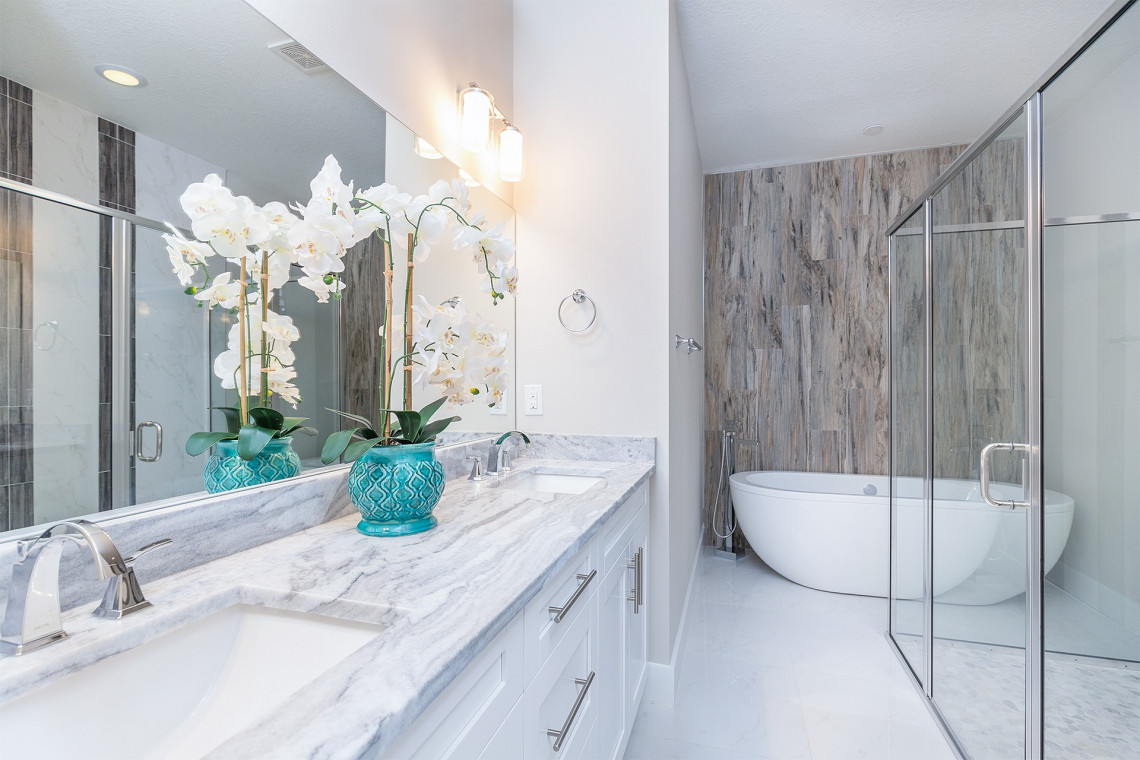 4. Company History (New Construction) Or Home History (Resale Homes)
When purchasing a new home your choice of either a new construction home or a resale will determine what you need to look for. If you are looking for new construction homes, then you need to look at the company to see how reliable they are. If you are looking for resale homes then you will have to look for the home history to get an idea about where the home may be in 5 to 10 years. Both have their grey areas, but it is much harder to look at a resale and accurately depict what the long-term cost of owning the home will be.
You don't know for sure how much money you may have to spend to repair a resale. You could potentially have no problems, but you could also potentially spend tens of thousands or hundreds of thousands of dollars repairing it over the next 5 to 10 years.
That's what makes it hard to determine which is a better choice for you and your family.
Overall, new homes will have a lower maintenance cost than a resale home will have.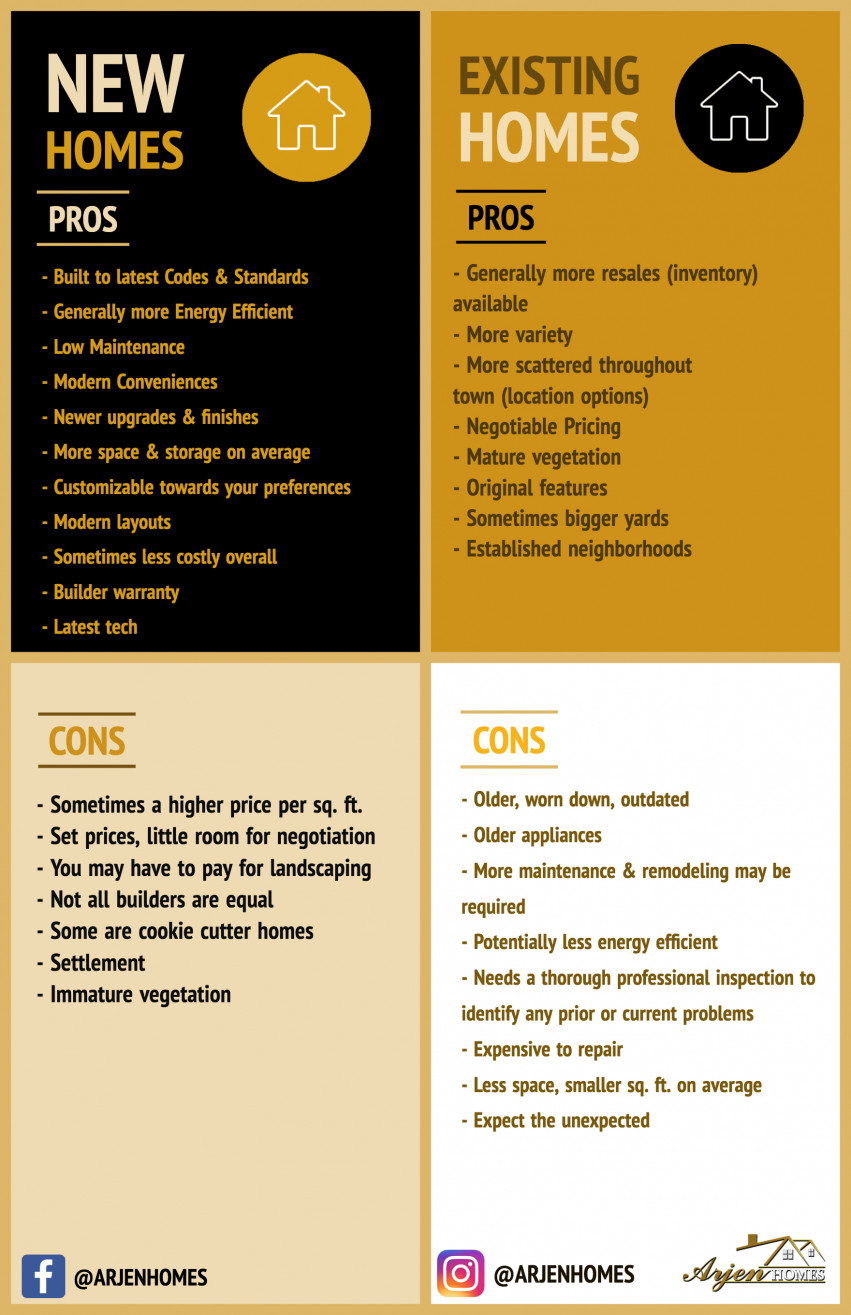 5. Price
This one is rather simple. Once you weigh the location, the construction quality of the home, the features & benefits, and the history; then you can more accurately figure out if the price matches the value.
At the end of the day, it comes down to what the home offers you in value and whether the price fits that or not.
The market and the surrounding options available will always have an effect on the price. It's true you can always negotiate a little, but at the end of the day, the price range should match the value you are looking to get out of the home.
If the price does not match the value then move on and try to find one that does.
Overall, new homes will have a lower maintenance cost than a resale home will have.