Tampa Market Update Fall 2018
Whether you are selling your home, buying a new home, or just curious how the market is doing, here are some stats that can be helpful to you!
Tampa Real Estate Market in Fall 2018 looking forward to 2019
Data from analysts and economic professionals, across MBA, NAR, Census Bureau, Realtor.com, Inman, Tampa Bay Times, Tampa Bay Business Journal, Zillow, Trulia, National Housing and Economic Reports, S&P Dow Jones Indices, FRED, and more.
Inventory is "showing signs of recovery" increase, 16% active listings and 17.9% new listings. First time since 2015.
Home prices are slowing down, bringing more homes back within reach,

sales prices have increased 17.1% this Fall over last year and home prices have gone up 7.7% year over year for 2018. However looking forward, homes are not expected to climb at the rate they have. They may still be increasing but somewhere south of 3-5%.

Home equity has appreciated over the past decade.

The average home has increased by 10% in 2018. Owning a home is a great investment right now.

New Home sales are up

7% in Florida, 12% in the US. Demand for new homes is high due to people wanting "new" for the same price of a resale.

Mortgage rates still increasing,

estimated to increase to 5 - 5.5%. They took a dip for the first time this Fall to 4.63% but are expected to continue rising.

Low price points are harder to find,

most of the new homes being built are 300k + due to the rising cost of land, labor, and materials.

Millennials are aging and will be a major market share by 2020

(40-43%),

Gen Y (35-44) are currently taking a larger market share as more enter the market.

Demand is still up,

homes are selling fast even at higher prices.

Homes are still going under contract quickly, usually under 32 days and closing under 72 days on average.

We currently have a very healthy economy.

Florida is a top 5 state for business' tax.
Tampa's Real Estate market is among the top 10 in the US.
We have one of the best job markets, ranked #4 with a 2.9% unemployment rate.
Our housing market ranks #6 in affordability.
Tampa Market Data
Fall of 2018
16%
Active number of homes on the market (17.9% new listings)
4.9k
Homes for sale in Tampa
$185
Average price per sq. ft
12.7%
Demand for new homes
Port of Tampa (33616) Market Data
Fall of 2018
105
Homes for sale in Tampa
$184
Average price per sq. ft
97.4%
Sales to List price ratio

Interest Rates are still low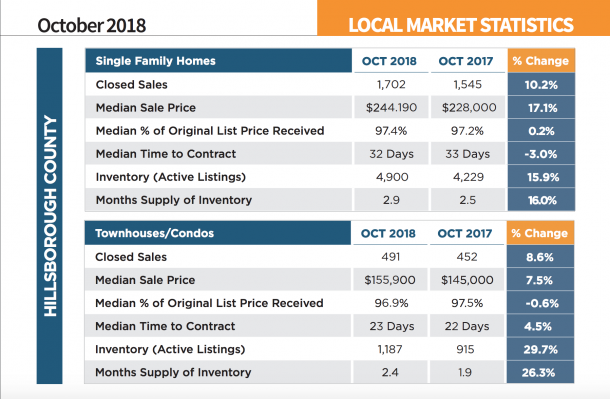 October Market Update
From GTAR
More Americans have more money
What does this mean?
The United States, Florida, and Tampa all have a healthy economy. Tampa has a lot going for it with its low unemployment, increased job growth, affordability, and overall desirability. With over $13 billion dollars in additions and upgrades coming to Tampa over the next few years, Tampa is in a prime spot.
Now, if you do not need to buy then there may be a benefit but you would have to wait a couple years to move. There are benefits in selling your home when prices are higher and the economy is going well.
If you have outgrown your current living situation and you need to upgrade, there are benefits to making a decision earlier rather than later. It is in your best interest long-term to not incur a higher price and/or higher rate. Prices and rates are still expected to rise in the near future. The interest rates are still historically low. And since the economy is doing well and the government just increased the loan limit so you have more purchasing power for less, right now is a great time to purchase a new home.
Inventory and new home construction are going up. Home purchases are still increasing. Job growth is increasing and wages have been increasing. There is a lot going well for the real estate marketing & the economy. This strong economic growth may provide the confidence buyers need to pursue their homeownership goals in 2019, even amidst rising rates and home prices.
While the market is facing some challenges, the important thing to remember is that interest rates are still currently at historic lows, and buying now is going to save you hundreds or even thousands of dollars when compared to the predicted rates and home prices for next year.
Either way, you're the only person who can decide what is right for you.
Discover our finished, modern, homes in South Tampa
We are bringing a luxury, high-end, modern, new home experience to multiple price ranges. (Not just 7 figures) — Even under half a million.
See the 40+ photos